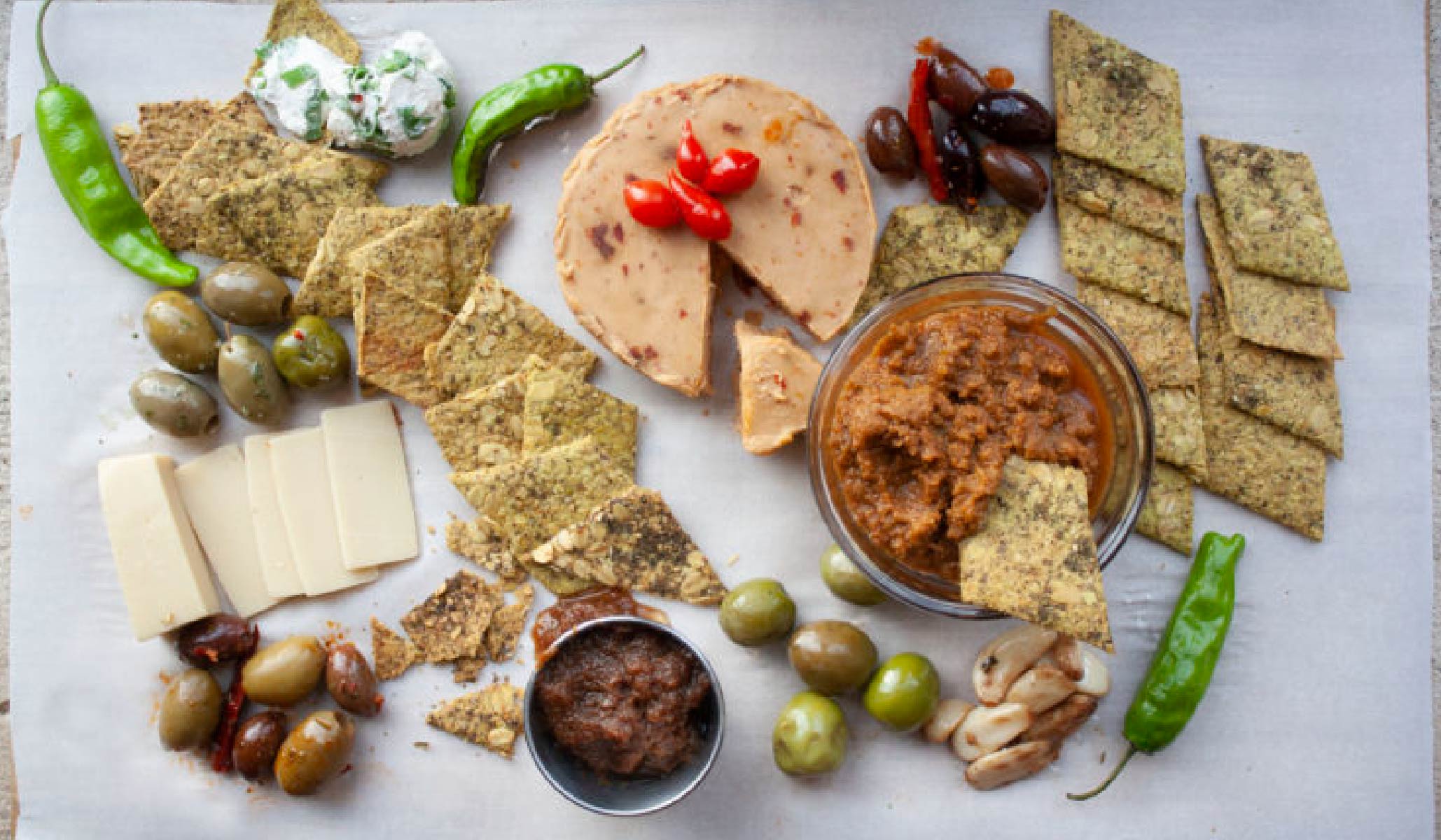 Za'atar Crackers
Author: Marie Krikorian 
Its my birthday month, and for my birthday every year I like to have a wine and cheese party. Right around my birthday a few years ago I decided to go vegan, which meant I had to come up with amazing vegan alternatives to my favorite birthday cheese platter. Enter my homemade oat/ almond flour flax crackers. 
They can be seasoned with whatever you like, and I have never made a bad flavor choice. I found some delicious vegan cashew cheese with sun-dried tomatoes in it. I thought it would taste amazing with the za'atar seasoning I bought from the Turkish market by my house.  Za'atar seasoning is a traditional middle eastern spice that usually contains thyme, oregano, sumac, sesame, and sometimes cumin. It is bright and citrusy, while being earthy and savory.
I mean, look at that spice! I could honestly eat these crackers with nothing on them. The crackers have beautiful nutty flavor notes because of the flaxseed, almond flour, and oatmeal, and they go wonderfully with a nice creamy spread of cheese.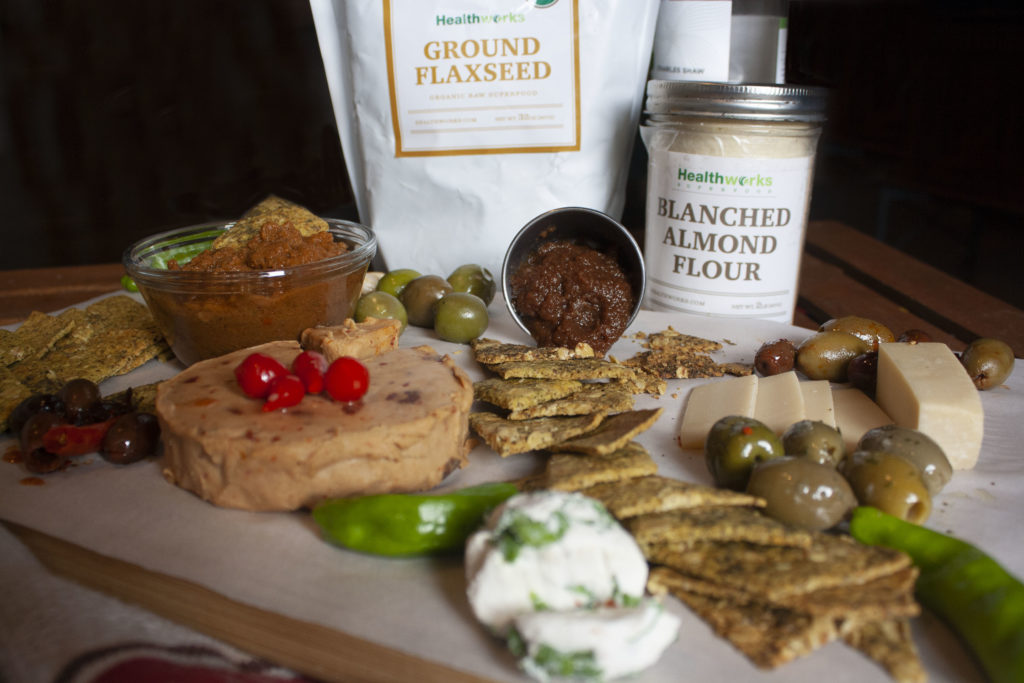 For this recipe I used Healthworks Flaxseed and Healthworks Almond Flour. I love Healthworks because they do their best to make sustainable choices. Plus, all of their superfoods are minimally processed to retain as much nutrients as possible and they are certified organic!
You can purchase the flax meal here ——>   Healthworks Flaxseed
Surprisingly, these crackers are very quick + easy to make. The most difficult step is rolling out the dough and slicing it. The best method was to use a pizza cutter or a board scraper.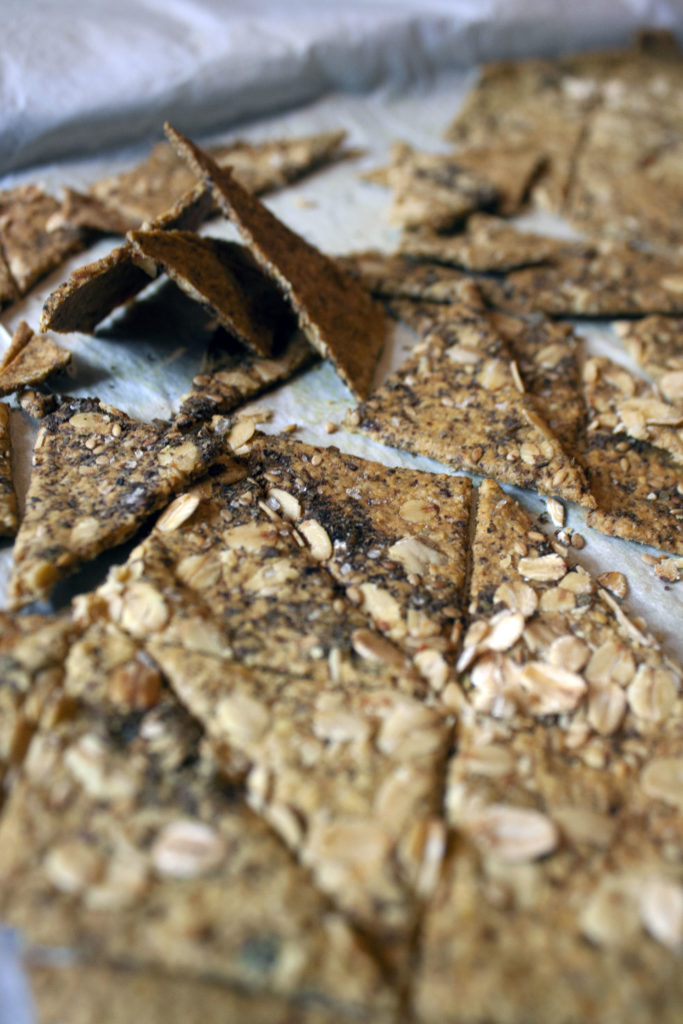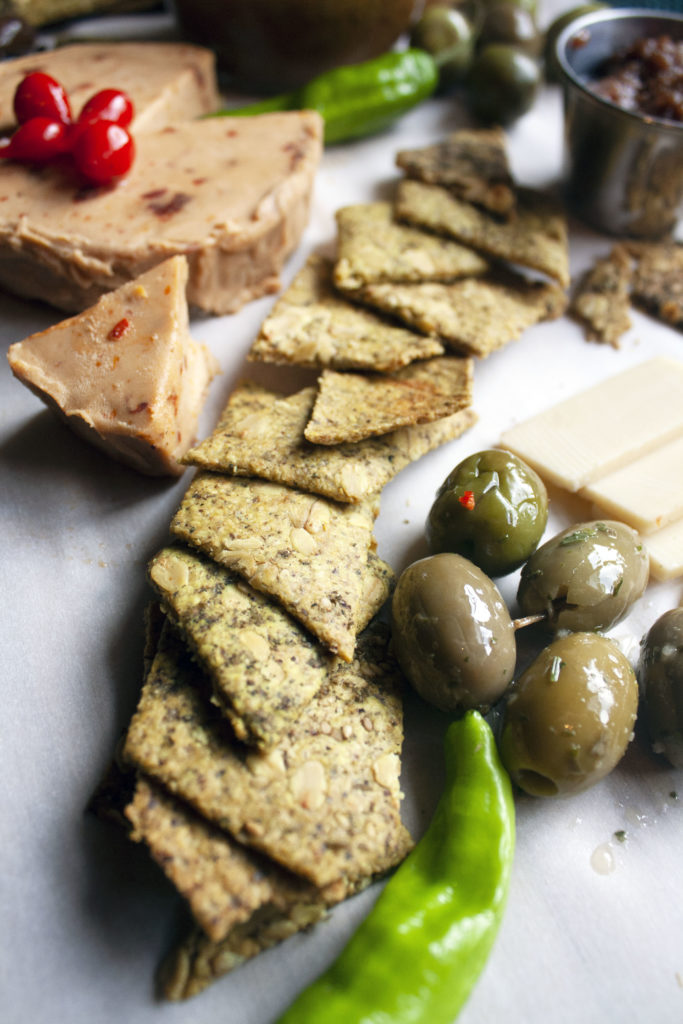 INGREDIENTS
2 tbsp Healthworks Ground Flaxseed
12 tbsp water
2 cups oats
3/4 cups Healthworks Almond Flour
3 tbsp Za'atar seasoning *
1 tsp salt
1 tsp pepper
3 tbsp warmed coconut oil
DIRECTIONS
Mix the ground flax with the 6 tbsp of water and let it sit for about 15 minutes until it is sticky.
In your food processor (a blender would work too) pulse the oats and the almond flour until it forms a flour.
Add the spices and blend again.
Transfer the flour into a bowl. Add the coconut oil and flax mixture.
Stir.**
Preheat the oven to 350 F.
Split the dough into two. Put one half of dough onto a piece of parchment, then put another sheet on top to prevent the dough from sticking to the counter and rolling pin.
Use a rolling pin to roll a flat even piece out. (the thinner you can roll it, the crispier your crackers will be. The thick ends are not as enjoyable as the nice thin ones. )
Remove the parchment, and score your crackers so they are easy to break apart when cooled.
Repeat the previous two steps with the second dough ball.
Bake the crackers until golden brown, about 25 minutes.
*If you can't find za'atar, you can make some most recipes on line will be authentic, and none of the spices should be too hard to find.
**Your dough may seem sticky, but it will bake up just fine.
---