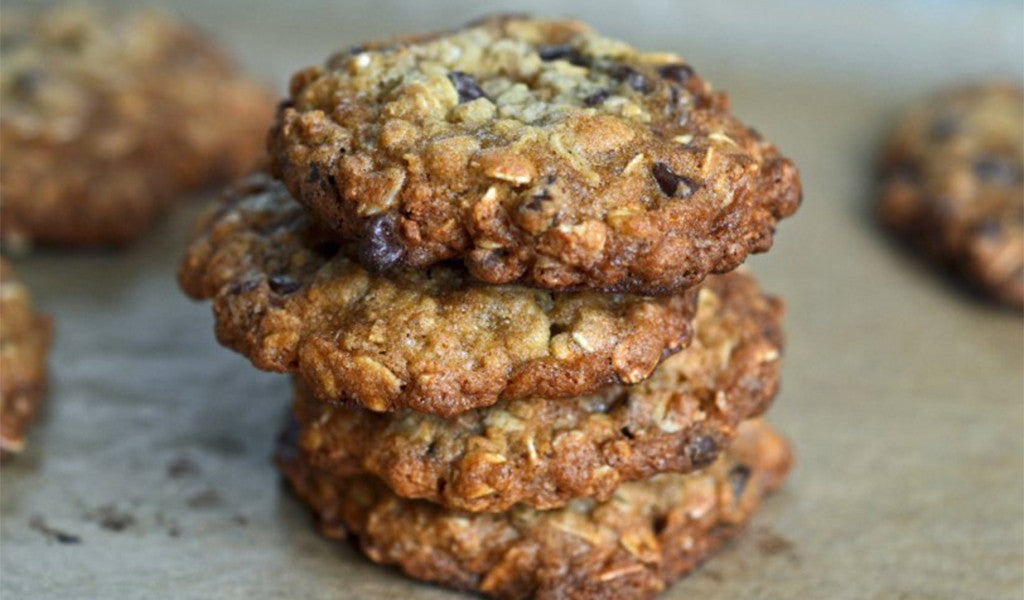 Gluten-Free Superfood Oatmeal Cookies
Ingredients
1 cup hazelnut flour

3/4 cup brown rice flour
3 cups rolled oats
1/2 cup shredded coconut
1/4 cup pine nuts
1/2 cup coconut palm sugar
1/3 cup Healthworks Cacao Nibs
1/4 cup mesquite pod powder
1 cup raw chopped walnuts
pinch of sea salt
3 large organic eggs, beaten
1/4 cup almond milk
2 tablespoons maple syrup
1/3 cup Healthworks Coconut Oil, softened
olive oil spray
Instructions
Preheat oven to 350° F.
In a large mixing bowl, combine flours, oats, coconut, hemp seeds, coconut palm sugar, cacao nibs, mesquite, walnuts and sea salt and mix well.
In a separate mixing bowl, combine eggs, almond milk, maple syrup and coconut oil, whisk well. Pour wet mixture over the dry mixture and stir until well combined.
Use a measuring spoon as a guide to form balls (2-tablespoons worth) and place on a cookie sheet sprayed with olive oil spray.
Bake for 10-14 minutes depending on your oven. They will firm up and set as they cool, so be careful not to over-cook them. When they come out of the oven, you can use a fork to gently press them flat. Hold the edges gently with your fingers so they don't crumble.
Cool for 10 minutes before devouring.
---