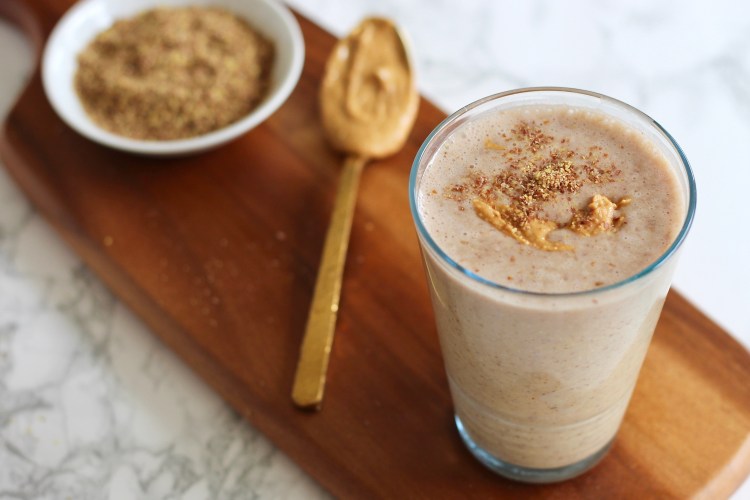 Flax Power Protein Smoothie
Author: 
With warmer weather approaching, a go-to smoothie is a must. As much as I love my fruity smoothies like my Strawberry Kale Smoothie, I also love creamy, nut butter filled smoothies. That's why I developed this energy-boosting Flax Power Protein smoothie filled with protein-packed ingredients like peanut butter, ground flaxseeds (also called flaxseed meal), and greek yogurt. 
I am a peanut butter fanatic and eat it on the daily. Whether it's in my morning oatmeal or blender hummus— I love how versatile and affordable this ingredient is. When buying peanut butter, ensure it does not contain any hydrogenated oil or added sugars. The only 2 ingredients on the nutrition label should be peanuts and a small amount of salt. 
The banana works as the primary sweetener in this smoothie but if you are looking for it to be a touch sweeter, feel free to add a date or two into the smoothie for a natural sweetener. I like to use dates in my Protein-Packed Banana Bread to add the necessary sweetness without any added sugars.
Flaxseed is another powerful ingredient added into the mix. You can consume the seeds themselves, but I like to eat them ground for easier digestion. They are a great source of heart-healthy omega-3 fatty acids, protein, and fiber. My favorite, convenient way to purchase ground flaxseeds has been on Amazon through a company called Healthworks. Healthworks mission is to provide great products to health-conscious people at affordable prices. You can buy a hefty supply of ground flaxseed, along with other nutritious ingredients, on Amazon here. 
Try throwing your ground flaxseed in customizable granola, energy bites, or this smoothie recipe below! What are your favorite protein packed smoothies to make?
Flax Power Protein Smoothie
This Flax Power Protein Smoothie is filled with the perfect mixture of protein-packed ingredients like peanut butter, ground flaxseeds, and greek yogurt. Customize it to your liking with ingredients of your choice.
Servings:

 
1
16 oz smoothie
Ingredients
2

 

tablespoons

 

peanut butter

1/2

 

cup

 

milk of your choice

1

 

ripe banana,

 

frozen or fresh

2

 

tbsp

 

ground flaxseed

2-4

 

tablespoons

 

of greek yogurt or other protein add-in of your choice

 

(collagen peptides, protein powder, oats, chia seeds)

1/2

 

cup

 

ice
Instructions
Blend all ingredients together until smooth.

Serve immediately or store in the fridge for up to 24 hours.
---