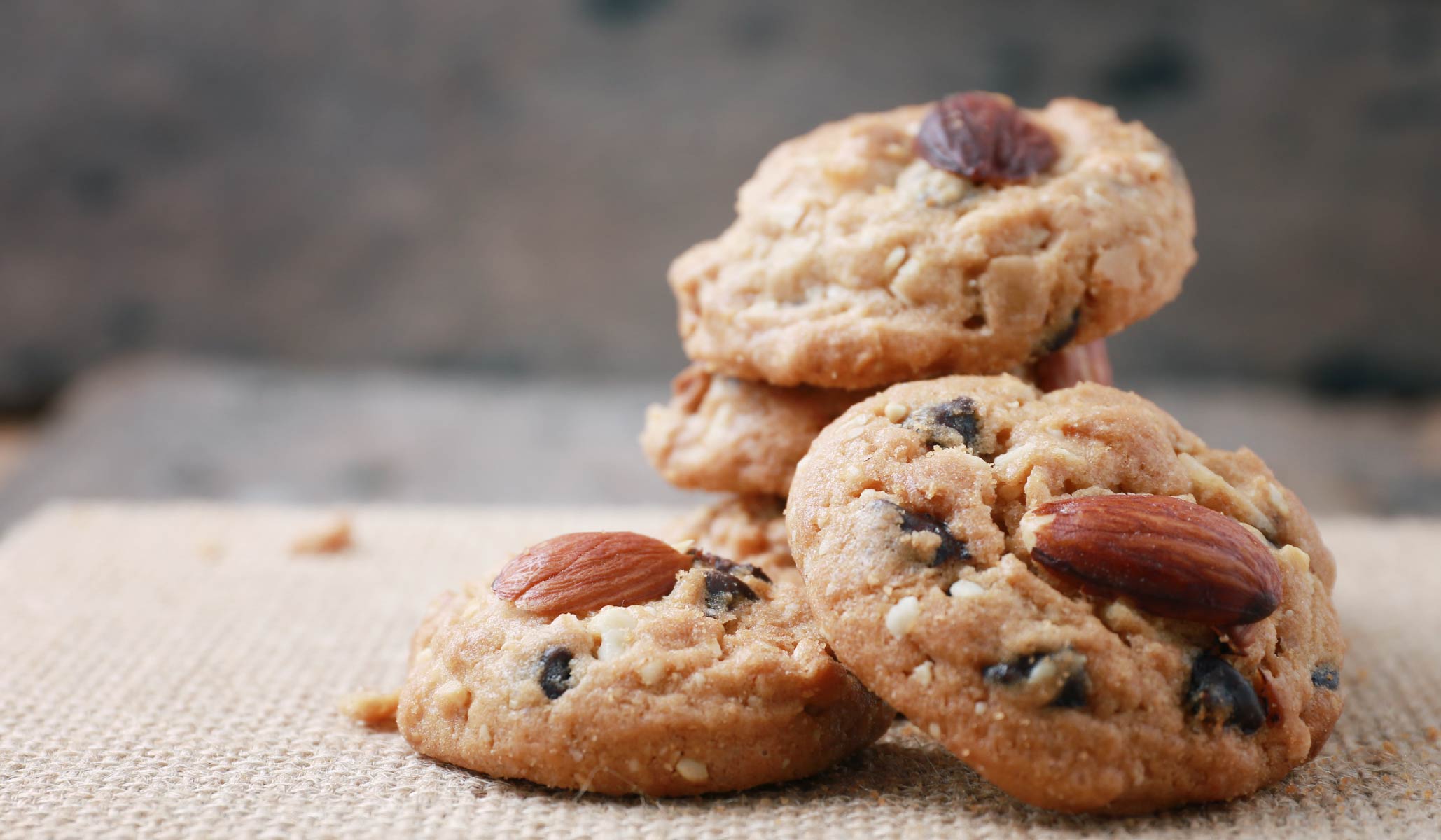 Crunchy Almond Cacao Nibs Cookies
Cacao nibs are fermented, dried, roasted and crushed cacao beans which add a great crunch and have an intense chocolatey taste, but aren't sweet at all. Since they are unsweetened, they bring balance to a lot of sweet desserts.
Cacao nibs give these cookies a chocolatey punch. These cookies are pure and delicious! They are very light and the cacao nibs offer the perfect crunchy texture. If you are not familiar with cacao nibs, they are one of the best chocolate chips without added sugar. Cacao nibs came from cacao beans that have been roasted and separated from their husks, then peeled and crumbled.
Ingredients: (Cooking time: 5 minutes)
100 g

(3½ oz) Almonds

125 g

(4½ oz) vegan butter, softened

115 g

(4 oz/¹⁄³ cup) rice malt syrup

2 tsp

natural vanilla extract

1

egg, beaten

150 g

(5½ oz/1 cup) gluten-free plain (all-purpose) flour

75 g (2¾ oz/¾ cup) Healthworks Almond Flour
1 tsp

baking powder

½ tsp

salt

55 g

(2 oz/⅓ cup) Healthworks Cacao Nibs
Instructions:
Preheat the oven to 160°C/320°F (fan-forced). Line a baking sheet with parchment paper.

Spread the almonds over the trays and toast for 5–8 minutes or until fragrant and the skins have loosened. Let it cool slightly then rub them in a clean towel to remove the skins. Discard the skins and roughly chop the nuts. Keep the sheet of baking paper for baking the cookies.
Mix the butter, rice malt syrup and vanilla extract with an electric mixer until pale and fluffy, scraping down the side of the bowl as necessary.

Add the egg slowly, beating well between each addition. Sift the flour, almond, baking powder and salt into the mixture. Add the chopped almonds and cacao nibs and stir until well combined.

Put tablespoons of dough onto the baking sheet about 1 to 2 inches apart. Flatten slightly with a fingertip dipped in water and bake for 18–20 minutes or until golden around the edges. Remove from the oven and leave to cool on the trays for 5 minutes. Transfer to a wire rack to cool completely.

Enjoy with a nice cup of coffee or tea and store the rest of the cookies in an airtight container for up to one week.
---