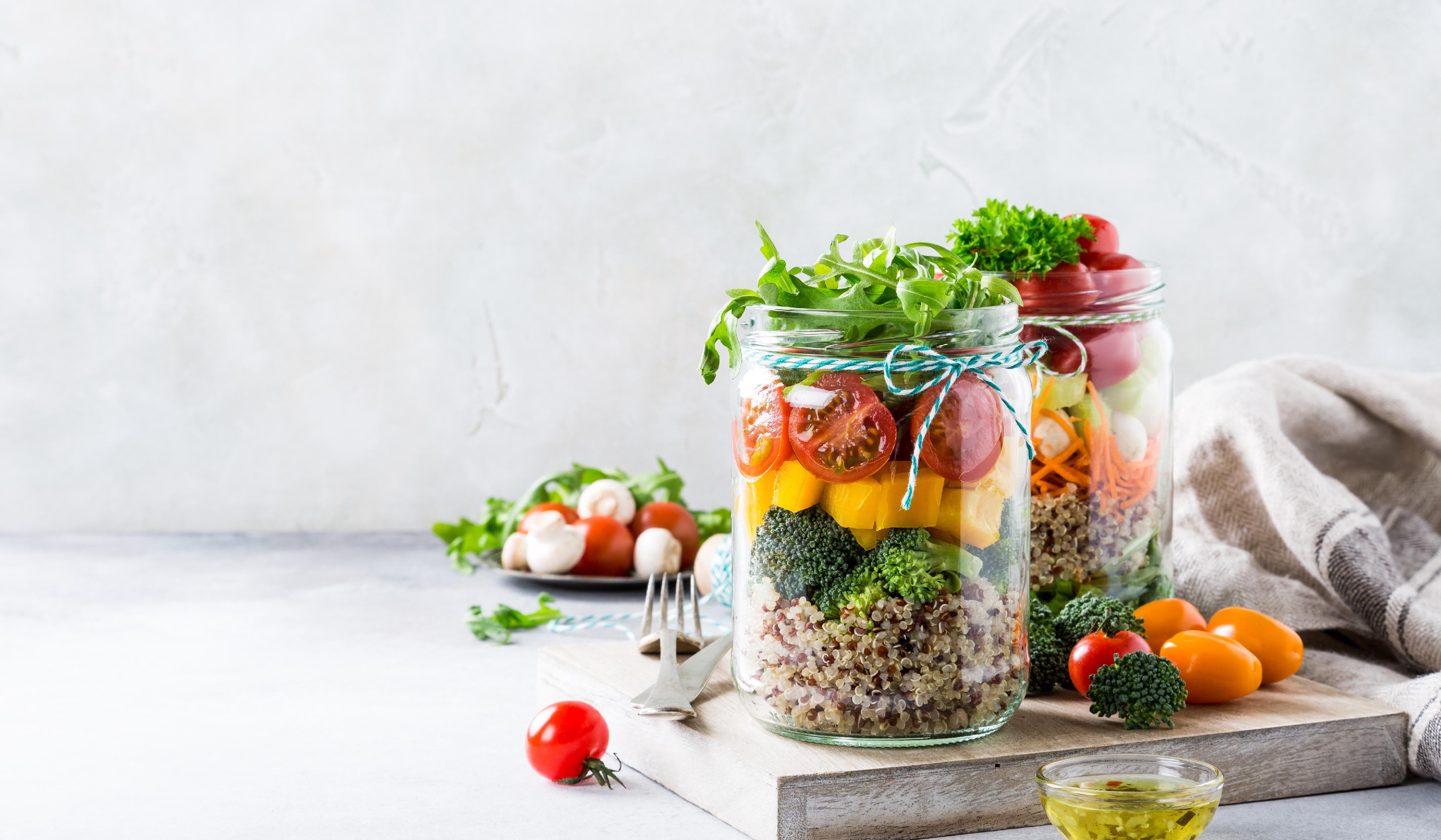 Lunch box idea: Healthy Mason Jar Salad
Looking for a refreshing lunch box idea? How about a Mason Jar Salad? 
When the weather is super hot, you'll probably lose your hot food appetite and crave something energizing and refreshing for lunch. Some might choose to avoid consuming a fully carbohydrate heavy-meal at lunch, as it can sometimes lead to sleepiness. Quinoa is a perfect gluten-free, cholesterol-free substitute for pasta or rice. It is also a superfood that is packed with protein, iron, B-vitamins, magnesium, phosphorus, potassium, calcium, vitamin E and fiber.
Quinoa Mason Jar Salad
Dressing:
2 tablespoons extra-virgin olive oil
1 tablespoon white-wine vinegar
½ teaspoon garlic powder
Handful of dill
Handful of parsley
1 tablespoon fresh lemon juice
Salt & pepper to taste
Salad: 
            1/2 cup Healthworks Quinoa (uncooked)
1 cup water
1/2 cup chopped cucumbers
1/2 cup grape or cherry tomatoes
1/2 cup chickpeas
3/4 cup arugula
3/4 cup baby spinach
1 tablespoon Healthworks sunflower seeds
Instructions:
Mix all the dressing ingredients until smooth and set aside.
Combine 1/2 cup Healthworks Quinoa with 1 cup of water in a medium saucepan. Bring to boil. Cover, reduce heat to

 

low,

 

and simmer until quinoa is tender (about 15 minutes)
Pour the dressing in the jar, and place chickpeas, cucumbers, grape tomatoes, quinoa and arugula in order. Top with sunflower seeds.
Store sealed jars in the fridge for up to 4 days
When serving, empty the salad jar into a bowl, stir well and enjoy!
Or if you prefer, keep the dressing aside, and pour into the jar at lunchtime. You can place the cap on the jar and shake it to evenly distribute.
---