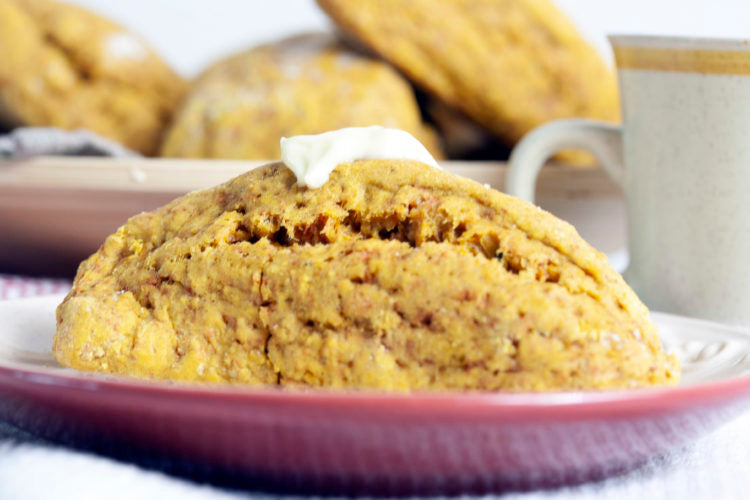 Golden Turmeric Scones
Author: Marie Krikorian
There is nothing better than enjoying a morning pastry with your coffee or tea and scones are my favorite choice. They are perfect wether they are sweet, savory, or somewhere in between. This batch of scones is perfectly moist and still flaky and crumbly at the corners.
These scones also make a nice weekday breakfast if you are not a morning person (like me) because they either can be baked all at once or you can freeze half the batch before baking. These scones are loaded with Healthworks Turmeric, which is said to be an anti-inflammatory and antioxidant.  It has a warm aroma, bright color, and gingery/peppery taste.
These scones are a nice slightly sweet scone and taste like golden milk, nice and full of ginger and cinnamon.
INGREDIENTS
3 cups flour
1/2 cup brown sugar
2 tsp Healthworks Turmeric
2 tbsp cinnamon
1/2 tsp ginger
1/2 tsp pepper
1 1/2 tbsp baking powder
1/2 tsp salt
2 tbsp + 2 tsp maple syrup
1 1/4 cup coconut cream
2 tbsp butter
DIRECTIONS
Preheat your oven to 425 degrees.
Mix all the dry ingredients into a large bowl.
Add the coconut cream and the maple syrup. Stir to combine until a sticky dough forms.
Knead the dough for a little bit until it is springy to the touch.
Form a circle (about 2 inches tall) with the dough and cut into 8 triangle scones like a pizza.
Sprinkle with cinnamon sugar.
Place the scones in the fridge for 15 minutes to prevent spreading.
Place the sconces on a non-stick baking sheet and bake for 15 minutes or until golden brown.
---