Healthworks Raw Goji Berries Organic, 2lb
---
Description
Consumed by both warriors and meditating monks alike, Goji berries (also known as Wolfberries), have been used in Asian herbal medicine for over 5,000 years and has been regarded as one of the most nutrient-rich foods on earth. They are a vegetarian source of protein containing high amounts of essential amino acids, vitamins C and A, and over 20 trace minerals and vitamins (including zinc, iron, phosphorus, B2, vitamin E, and carotenoids).
Goji berries are chewy, with a tangy but sweet taste, which can take a little time to get used to. We try to source some of the softest berries on the market, as this what our customers seem to prefer. However, depending on the humidity or even a particular batch, some batches can be drier than others. As the berries have been dehydrated, we recommend soaking them in warm water for a couple minutes to help them soften up.
Our Healthworks Goji Berries are certified organic and come from small farmers to ensure maximum quality and minimum waste.
FAQ
Question: Where are Healthworks Goji Berries from and how are the processed?
Answer: We source our premium Goji Berries from the Ningxia Province in China. Healthworks Gojis are grown on certified organic farms and are certified organic by the USDA. Additionally we use third party lab testing in the USA to ensure the Goji Berries we sell are pesticide free, sulfite free, dangerous microbes and free of any other additives or chemicals. Our organic, sundried Goji Berries are minimally processed and can vary from batch to batch. Sometimes the small fibers of the Goji Berry plant (leaves) can stick to the berries throughout the drying process. This can give the appearance of spots or mold on the berries. The Goji Berry leaves are not dangerous to consume. 
Question: What do Goji Berries taste like?
Answer: Goji berries have a natural tinge of sweetness with a very slight herb-like aftertaste. They also contain tiny seeds (which contain fibre) that add a nice texture to your meals.
Question: How do you eat them?
Answer: You can eat them raw or soak them in hot water before munching. Others prefer adding goji berries to trail mixes, smoothies or as a garnish on cereals, salads or yogurts. Basically, goji berries can be baked, cooked, steamed, and processed in any way after they are washed.
California residents: Click Here for Prop 65
(https://healthworks.com/pages/about-california-proposition-65)
WARNING: This product can expose you to chemicals including lead, which is known to the State of California to cause cancer or birth defects or other reproductive harm. For more information go to: www.P65Warnings.ca.gov
---
Similar Products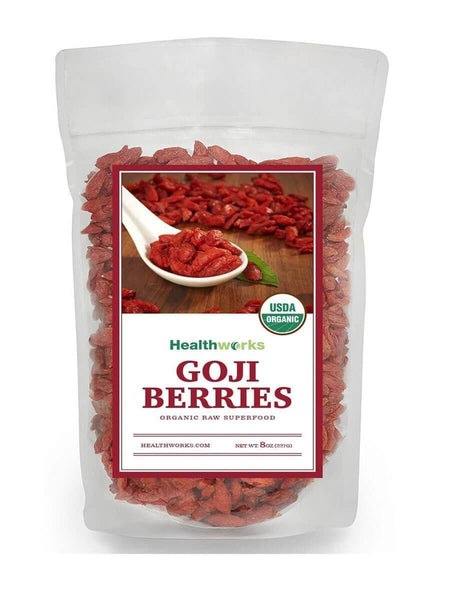 $ 21.99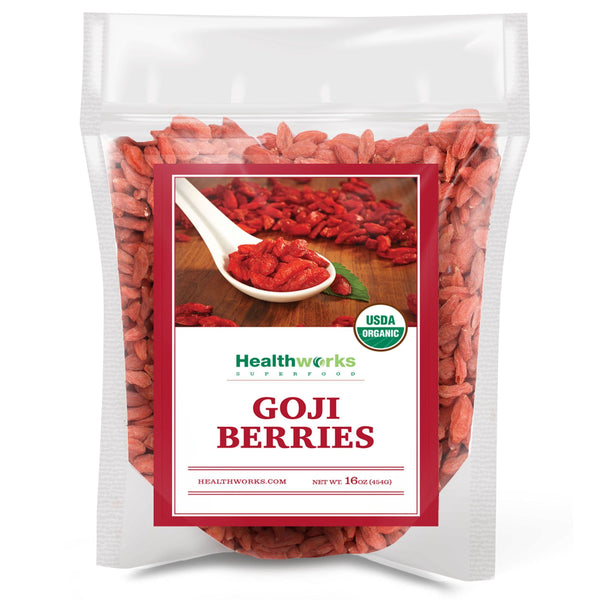 $ 22.99