Healthworks Turmeric Root Powder (Curcumin) Organic, 2lb
---
Description
Turmeric, an orange-colored spice, has been a staple in Middle Eastern and Southeast Asian cooking for thousands of years. Traditionally called "Indian saffron" or "yellow root" because of it comes from the root of the Curcuma longa plant and has a tough brown skin and a deep orange flesh. It was regularly used throughout history as a condiment, healing remedy and textile dye.
Turmeric is best known as the spice that gives curry powder its distinctive color. It has a warm aroma, bright color, and gingery/peppery taste are relied upon in cooking throughout Asia. Just sprinkle it on vegetables or mix it into dressings. It is also great when rubbed on meat and added to curries and soups.
Our Healthworks Organic Turmeric Powder is raw, pure, all-natural, and makes for a great addition to any lifestyle.
Healthy and delicious - add turmeric to your diet and reap the benefits!
TRY WITH: Vegetables, Rice, Lentils, Beans, Soups, Salad Dressings, Scrambles, Meats, Smoothies, Teas, and more!
FAQs
Question: What does Turmeric taste like?
Answer: Turmeric is routinely added to mustard blends and relishes. It also is used in place of saffron to provide color and flavor. Turmeric is mildly aromatic and has scents of orange or ginger. It has a pungent, bitter flavor.
Question: How do you store Turmeric?
Answer: Store in cool, dark place, away from direct heat or sunlight.
Question: Is it okay to freeze Turmeric?
Answer: It is not recommended to freeze Turmeric.
Question: What is the percentage of Curcumin in Healthworks Turmeric Powder?

Answer: The percentage of Curcumin is about 3% per serving.
California residents: Click Here for Prop 65
 (https://healthworks.com/pages/about-california-proposition-65)
WARNING: This product can expose you to chemicals including lead, which is known to the State of California to cause cancer or birth defects or other reproductive harm. For more information go to: www.P65Warnings.ca.gov.
---
Similar Products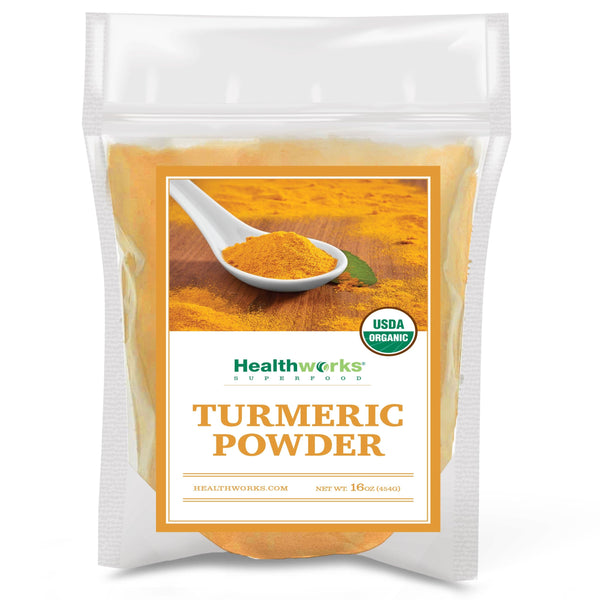 $ 14.99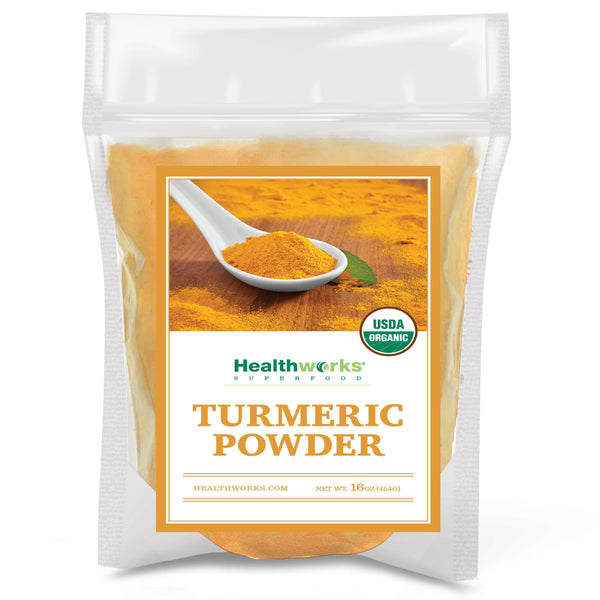 $ 11.99