Healthworks Cacao Nibs Organic, 5lb
---
Description
The base of everything chocolate - a cacao nib is a cacao bean that's been chopped and broken into very small pieces. Cacao Nibs are known to contain theobromine which has a similar effect to caffeine. They also contain a rich supply of antioxidants, dietary fiber, magnesium, potassium and are low in carbohydrates and sugar. Healthworks Cacao Nibs are grown and harvested sustainably on small Peruvian farms to come to you in their purest, most nutrient-rich state. Healthworks Cacao Nibs are organic, pure, and natural. 
Try our Cacao Nibs in smoothies, yogurt, oatmeal, baked goods, ice-cream, trail mix, snack food, or as a chocolate chip alternative.
FAQ
Question: Does it taste like chocolate chips or dark chocolate?
Answer: Organic cacao nibs can have sort of a bitter, think dark chocolate taste, when eaten by themselves. The reason is because it is not treated like your typical Cocoa that you would buy in the supermarket is. It does not have sugar added or any of the unhealthy processing that is used to give it a sweet taste. The good news is that if you use it in smoothies or recipes that call for chocolate, many customers feel like they get the great taste of chocolate without the unhealthy additives or processing, plus the nutritional benefits of cacao nibs. 
Question: How are the Cacao Nibs processed?
Answer: Much of the production process is manual and takes place on the small farms where the cacao is grown. Our cacao is selectively harvested by hand since not all the fruit ripen in the same time. Mature fruit pods are split open, the cacao beans removed and the outer shell discarded. Once scooped from the pods the cacao beans are fermented and sun dried to lower the humidity.
We then soften the skin of the cacao by means of a low heat treatment. The beans are then low temperature dried and their shells are removed before being crushed into smaller nib size pieces. The lower temperature processing helps maintain the natural flavor and the nutritional properties of the fresh cacao grains.
Question: Are they safe to eat raw?
Answer: Our Cacao Nibs can be consumed raw and you get more benefits not heating or cooking the cacao nibs as they are full of enzymes, vitamins and nutrients that are carefully preserved in the low temperature processing. You can still use cacao in hot drinks and baking, but you lose some of the nutrients. 
California residents: Click Here for Prop 65
 (https://healthworks.com/pages/about-california-proposition-65)
WARNING:  This product can expose you to chemicals including lead and cadmium, which are known to the State of California to cause cancer or birth defects or other reproductive harm. For more information go to: www.P65Warnings.ca.gov.
---
Similar Products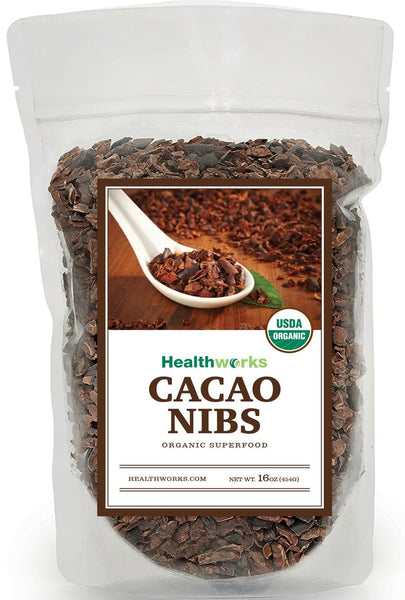 $ 18.99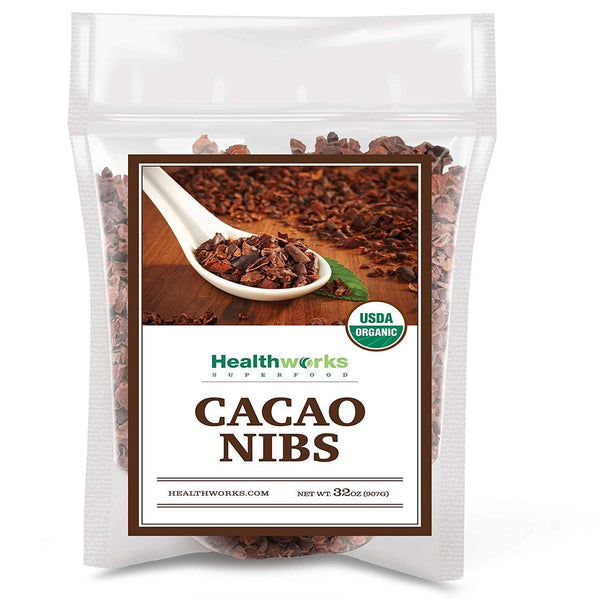 $ 26.99