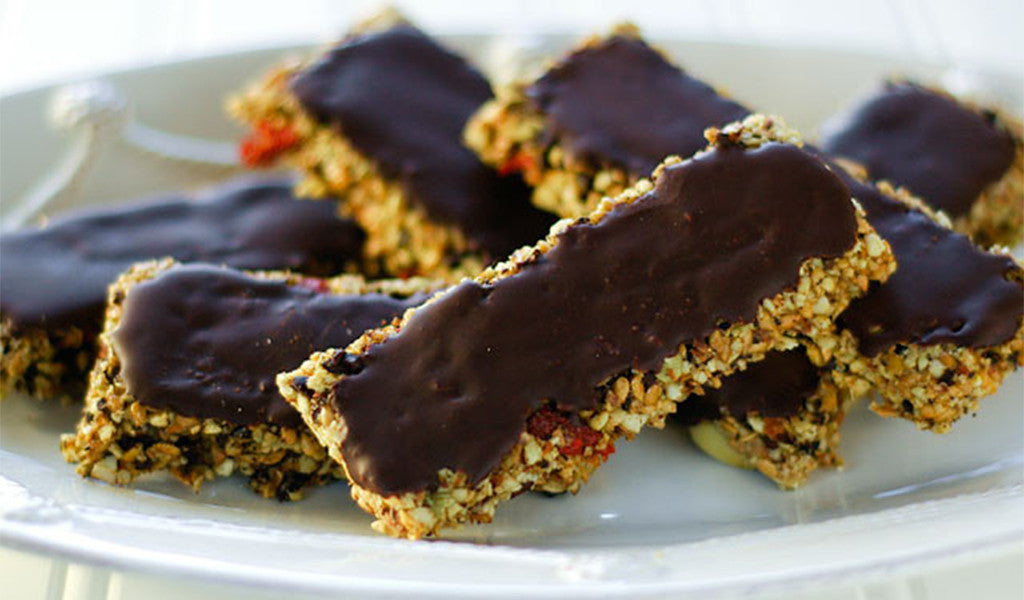 Raw Goji Cacao Energy Bars
Instructions
Soak almonds, pumpkin seeds and flax seeds for at least 6 hours.
Place almonds and pumpkin seeds in a food processor. Process until well ground but still chunky.
Add agave and cinnamon, pulse until well combined.
Remove from food processor and place in a large bowl. Add flax seeds, cacao nibs and goji berries; stir.
Press into a rectangle on a nonstick dehydrator sheet. You want these to be 1/2″ thick.
Dehydrate at 145 degrees for 45 minutes. Reduce heat and dehydrate for 3 more hours.
Peel off dehydrator sheet, dehydrate for 2 more hours. At this point, you will remove them from the dehydrator, cut into bars, and separate them so there is a little space in between each bar; return to the dehydrator for 2-3 more hours. You want them dry but not brittle. They should be a little soft.
Top with raw chocolate.
---