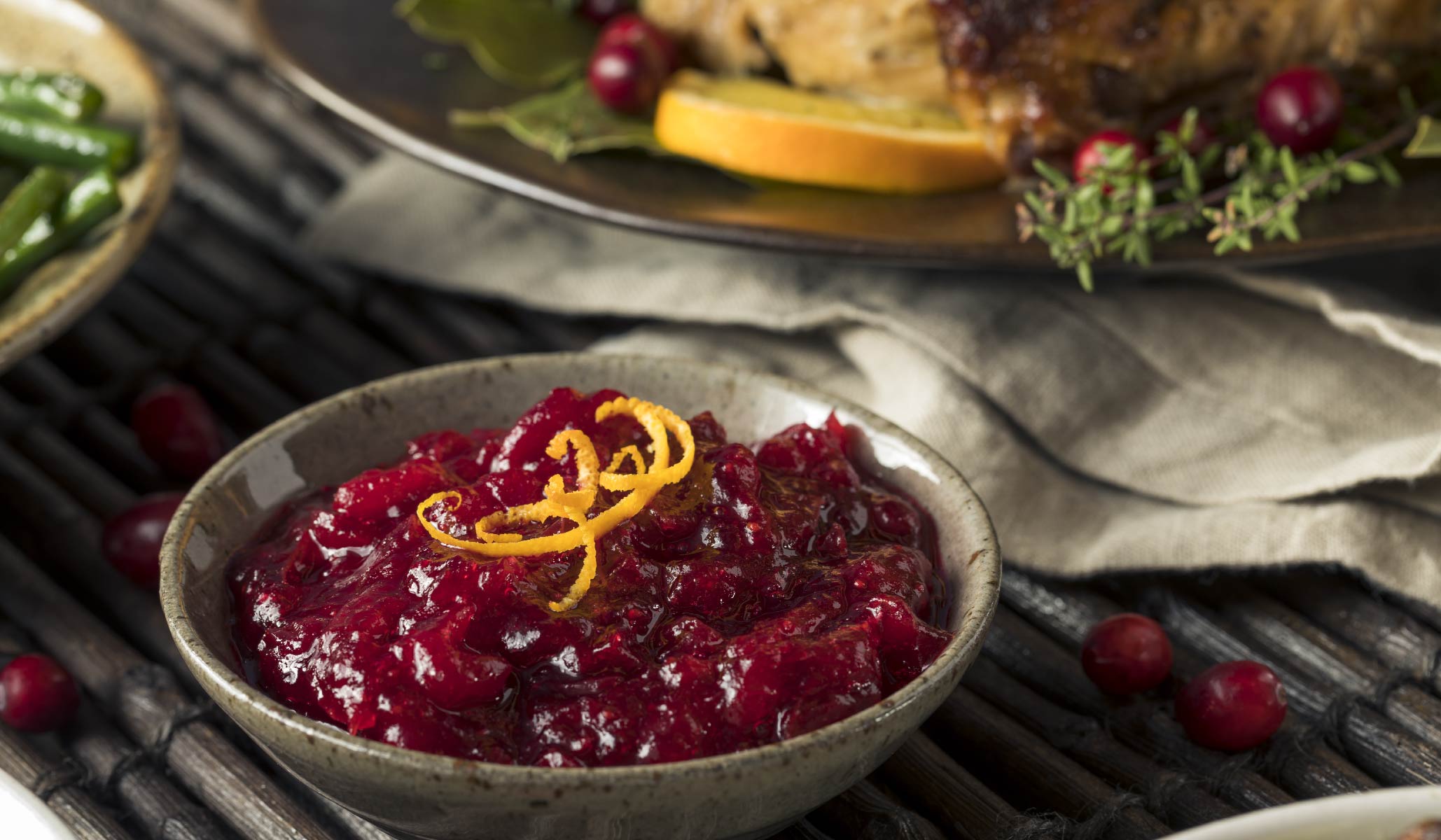 Superfood Goji-Cranberry Sauce
Author: Julianne Hall
Confession: before recipe-testing this goji cranberry sauce, I had never cooked with fresh cranberries in my life. In fact, I don't think I had ever even touched a fresh cranberry! I have always been intimidated by them, for no good reason. Deciding to make my own sauce this year was totally out of my comfort zone. I wanted to create a recipe that beginners like me could make without feeling intimidated. A recipe that only required a few simple ingredients, one pot, and only fifteen minutes.
Just like all of my recipes, I wanted this one to be approachable. Sometimes approachable means that we take some shortcuts, or that it isn't necessarily how grandma made it. And that's okay! I'd rather make a short-cut cranberry sauce than not make one at all, you know? Complicated recipes are fun once in a while, but for real life, I need recipes that I can whip up without dirtying up every dish in the kitchen. Recipes that don't take all night. Recipes that come out delicious every time! This Superfood Goji Cranberry Sauce ticks all of those boxes, and then some!
This superfood goji cranberry sauce is the perfect side for your holiday meal. And by the way, your guests will have no idea how easy it is. The addition of goji berries make this stand out from your run-of-the-mill cranberry sauce, and adds an extra punch of nutrition too! Goji berries are packed with vitamins A and C, fiber, iron, zinc, and as I'm sure you've heard, antioxidants! They all contain all eight essential amino acids, making them a complete protein. That's rare for a fruit!
My favorite source for goji berries (and all things superfood) is Healthworks. I am pretty careful about where I source my ingredients, and Healthworks is one of those companies that I just trust across the board! When I make a purchase from Healthworks, I don't have to worry about the quality or about where the product is sourced from. Everything they package is sourced from small, organic farms and is harvested sustainably. And best of all, their products are AFFORDABLE. Like, the-best-prices-on-the-internet affordable. And believe me, I've looked! I'm all about comparing prices and getting the best deals, and Healthworks makes it so easy. Check out their 1-lb bag of goji berries on Amazon by clicking here.
Once you've got your fresh cranberries and goji berries, the only other ingredients you need are maple syrup (the real stuff!) and an orange. Be sure to zest your orange before you juice it, otherwise it's a big pain in the rear to zest a floppy, messy, already-juiced orange. I know because I have made that mistake and it isn't pretty. If you have a lemon laying around, feel free to use that instead. The orange flavor adds a little something special but lemon totally works too! This recipe is all about simplicity, so use what you have on hand.
Get all of your ingredients in a medium saucepan, bring to a boil, reduce heat, and cook for about ten minutes. That's it! For the specifics, see the recipe below, but don't overthink it! My one important tip is just not to walk away while it's cooking, because if the pan gets too hot, the maple syrup will burn on the bottom, and we definitely don't want that. I speak from experience here, people! Aside from that, this goji cranberry sauce recipe is pretty fool-proof so I hope that fresh cranberries no longer intimidate you. Give this one a try!
12

 

oz

 

fresh cranberries

1/2

 

C

 

Healthworks goji berries

 

soaked in water for 30 minutes beforehand

1/2

 

C

 

maple syrup

juice of one

 

orange

 

about 1/4 cup

zest of half an

 

orange

 

about 2 teaspoons (plus more to taste)
Add all ingredients into a saucepan and stir to combine.

Bring to a boil, cover and cook on medium-high for 8-10 minutes, stirring frequently. Watch carefully; it will burn if you have the heat too high or don't stir.

Once all of the cranberries have popped and the sauce has thickened, turn heat to low and let simmer for another five minutes.

Remove from heat and add more orange zest to taste.

Serve warm or let it cool and serve chilled.
---