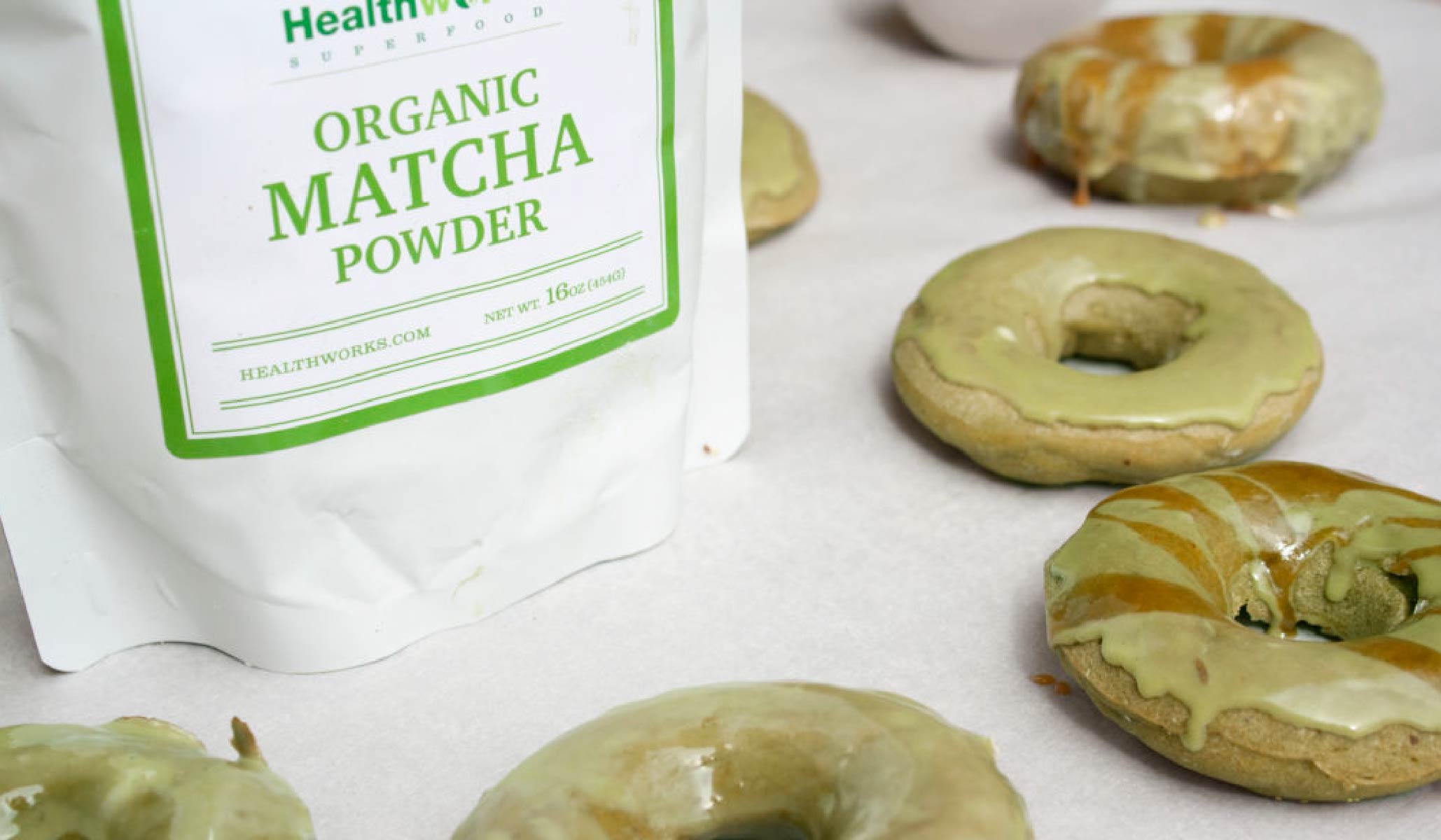 Glazed Matcha Donuts
Author: Marie Krikorian 
Hello spring! These baked cake-y Matcha Donuts are a perfect introduction to spring. The matcha infused batter has a caramelized, bittersweet, &. earthy taste. They are perfect for people who enjoy subtly sweet treats (you could always add more glaze.) They are a not-so-guilty treat perfect for all of your spring potlucks. Plus, These donuts are vegan & healthier than the ones at your local shop.
For this recipe I used Healthworks Matcha powder. I love Healthworks because they do their absolute best to source their products from small sustainable farms across different countries. They are also consciously working to reduce waste! There are so many reasons to love them! I won't lie, while I was recipe testing I could not resist making myself a nice matcha latte full of antioxidants and is said to help boost your metabolism! You can get the matcha powder and many of their other great products on their website!
I love these donuts because the vegan egg substitute is banana and flax egg. The banana is sweet and moist and pairs wonderfully with the matcha. I chose to make a matcha glaze for the icing and also a caramel for a bit sweeter of a donut.
INGREDIENTS
1/2 cup coconut oil
1/2 cup granulated sugar
1/3 cup brown sugar
1 overripe banana
1 flax egg (1tbsp flax meal + 3 tbsp water)
1 1/2 tsp baking powder
1/4 teaspoon baking soda
1 1 tbsp

 

Healthworks matcha powder

 

1 tsp maca powder

 

1 teaspoon salt
¼ teaspoon almond extract
2 2/3 + 1/8 cup all purpose flour
1 cup almond milk
For Icing
1 1/2 cups organic confectioners' sugar
3 to 4 tablespoons almond milk
DIRECTIONS
Preheat your oven to 425°F.
Grease and prepare your pans ( I used a 6 donut silicone sheet)
Prepare your flax egg in a bowl and let thicken.
In a medium-sized mixing bowl, beat together the oil, sugar, and brown sugar.
Add the banana and flax egg, beating to combine.
Add the almond extract.
In a different bowl, Stir in the baking powder, baking soda, matcha, maca, salt.
Stir the flour into the butter mixture alternately with the almond milk.
When the batter is well combined, spoon the batter into a piping bag (or ziplock bag) and pipe into the donut molds.
Bake the doughnuts for 13 minutes. (repeat steps 9 and 10 when the donuts cool if you only have 1 pan)
While the donuts are baking make the icing.
Alternate milk and sugar in a bowl, whisking, until it comes together into a glaze. You may not need all of the milk.
Allow the donuts to cool before placing them on a rack to ice.
---