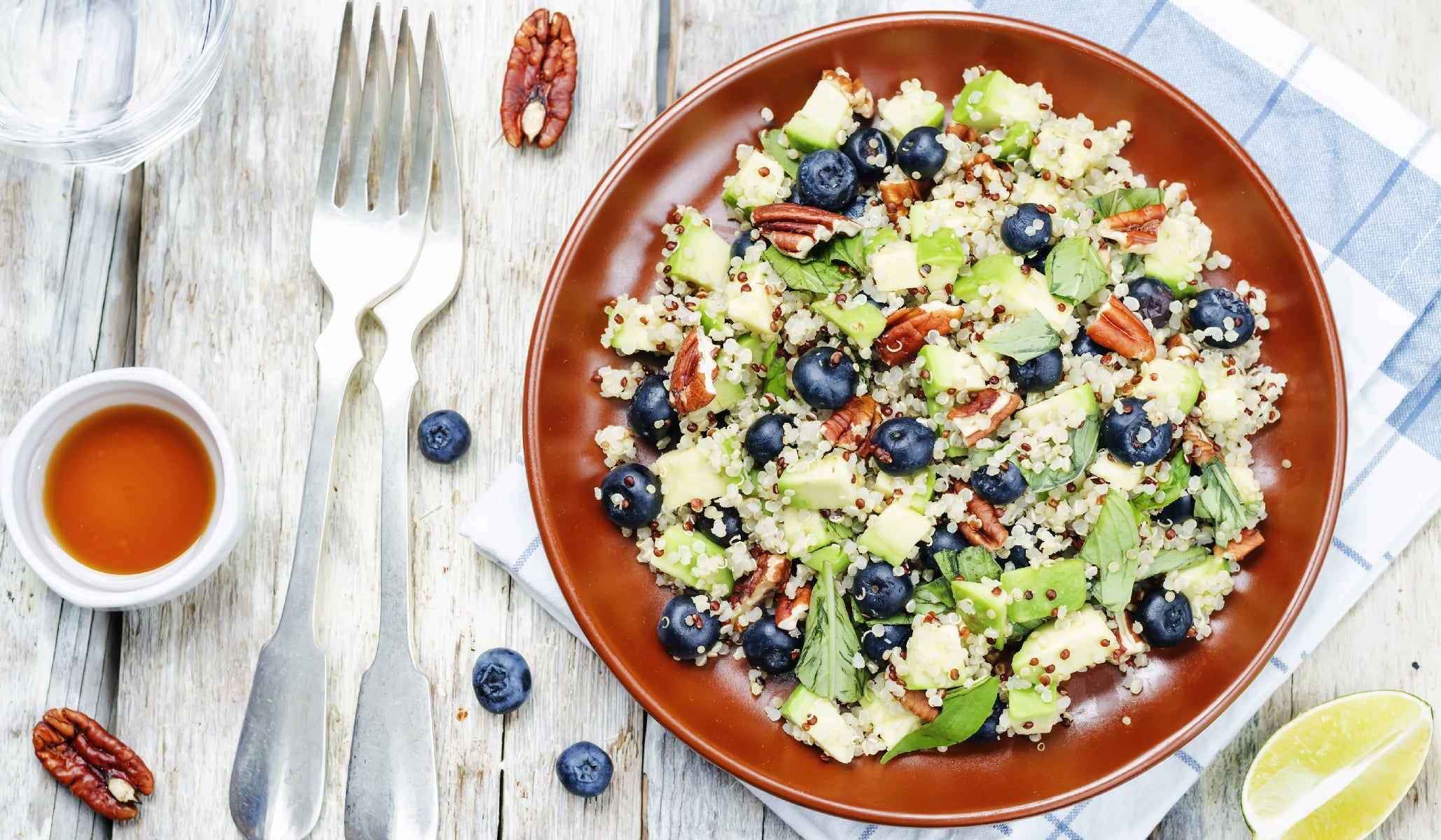 Summer Salad: Avocado Blueberry Quinoa Salad
On a hot summer day we are always craving something light and refreshing. This Summer salad is surely your call!  It is loaded with fresh corn, red onion, tangy feta, chopped pistachios, and tossed in a flavorful cilantro lime dressing. A perfect option for a light lunch at the office and for summer picnics or parties. A unique combination of flavors, textures, summer fruits and crunchy veggies, it is a must-have salad for the summer.
Ingredients: (4 servings)
1 cup Healthworks Quinoa
1 firm but still ripe avocado (diced)
1 cup blueberries
1 cup cooked sweet corn
1/2 cup red onion (diced)
1/2 cup feta
1/2 cup pistachios (chopped)
Cilantro Lime Dressing
1/2 jalapeno (seeded)
1/4 cup olive oil
2 tbsp fresh lime juice
1/3 cup cilantro leaves
Freshly ground black pepper
1/8 tsp salt
For Garnishing
Extra pistachios, feta, red onion and cilantro
Instructions:
Combine 1 cup Healthworks Quinoa with 2 cups of water in a medium saucepan. Bring to boil. Cover, reduce heat to low, and simmer until quinoa is tender (about 15 minutes).

In a blender, blend all the dressing ingredients until smooth. Set aside.

In a large bowl, add in quinoa, avocado, blueberries, corn, red onion, pistachios, feta and cilantro.

Pour dressing on the salad and toss to combine.

Garnish with extra pistachios, feta, red onion and cilantro. Enjoy!
*Salad will stay good for 3-5 days in the fridge.
---