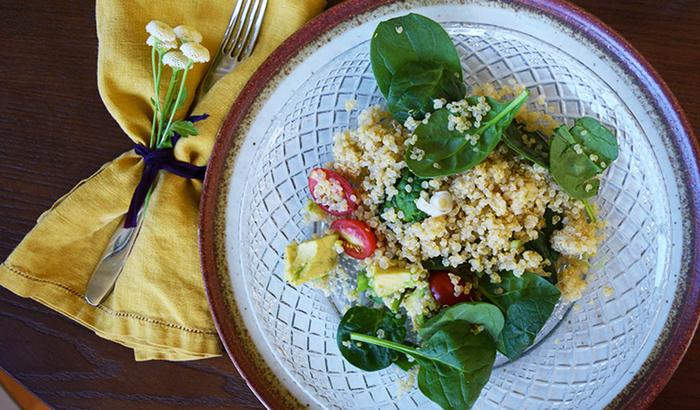 3 Easy Quinoa Salads You Can Make For Lunch
Trying to stay healthy but having trouble with later afternoon hunger from your salad leaving you hungry?
Try adding some Quinoa to it! Quinoa is packed with protein and will leave you feeling satisfied till dinner time!
Check out these 3 Quinoa Salad recipes that are perfect for lunch!
Ingredients
Salad
2 cups cooked Healthworks Quinoa
1 pound brussels sprouts, rinsed and ends trimmed, then halved lengthwise and thinly sliced crosswise
1 cup dried cranberries
2/3 cup chopped pecans, toasted
Orange Vinaigrette Dressing
1/4 cup freshly-squeezed orange juice
1/4 cup olive oil
2 tablespoons apple cider vinegar
pinch of salt and pepper

Instructions
Salad
Toss all ingredients together until combined. 
Orange Vinaigrette
Whisk all ingredients together until combined.
Combine everything together & enjoy!
Recipe and photo via Gimme Some Oven
Ingredients
½ cup

 

Healthworks Quinoa, dry
¼ cup Healthworks Goji Berries
1 cup water
2 chicken breasts, chopped small
1 tbsp olive oil
salt and pepper to taste
½ tsp ground garlic
4 to 5 cups of kale, chopped very small
¼ cup freshly grated Parmesan cheese
For Lemon Vinaigrette
¼ cup olive oil
¼ cup fresh lemon juice
2 garlic cloves, minced
½ tsp salt
½ tsp ground black pepper
1 tsp dried oregano
1 tsp honey
Instructions
Start by combining 1 cup of water with the dry quinoa in a saucepan and bring it to a boil over medium high heat. Cover the saucepan and reduce the heat to low, let it simmer for about 15 minutes until the quinoa is tender. If there's any water left, make sure you drain the quinoa first.
While the quinoa is cooking, you can prepare the chicken. Add the olive oil to a large skillet and heat over medium high heat. Add the chicken pieces, season with the salt, pepper, and garlic powder. Cook for about 8 minutes, until chicken is no longer pink but it's just starting to brown a bit. Remove chicken from skillet and let cool.
In a large bowl toss together the kale, cooked chicken, quinoa, sunflower seeds and raisins.
For Lemon Vinaigrette
Whisk together all the ingredients for the lemon vinaigrette in a small bowl. Adjust salt and pepper as necessary.
Pour the vinaigrette over the kale salad and toss really well. Sprinkle with Parmesan cheese before serving.
Ingredients
1 cup dry

 

Healthworks Quinoa
2 medium avocados
3 oz. baby spinach
8 oz. cherry tomatoes
3 green onions
Dressing
1-2 cloves garlic, minced (I use 2)
2 Tbsp. red wine vinegar
2 Tbsp. olive oil
1/8 tsp. salt

Instructions
Cook the quinoa according to package directions.
Meanwhile, make the dressing: in a small bowl whisk together ingredients and set aside.
Roughly chop the spinach and place in a large bowl.
Slice the green onions, halve the cherry tomatoes, and dice the avocado.
Once the quinoa is finished cooking, add it to the large bowl with spinach and toss. 
Add the green onions, tomatoes, and dressing. Stir to combine. Add the avocado on top.
Serve immediately or refrigerate. 
---