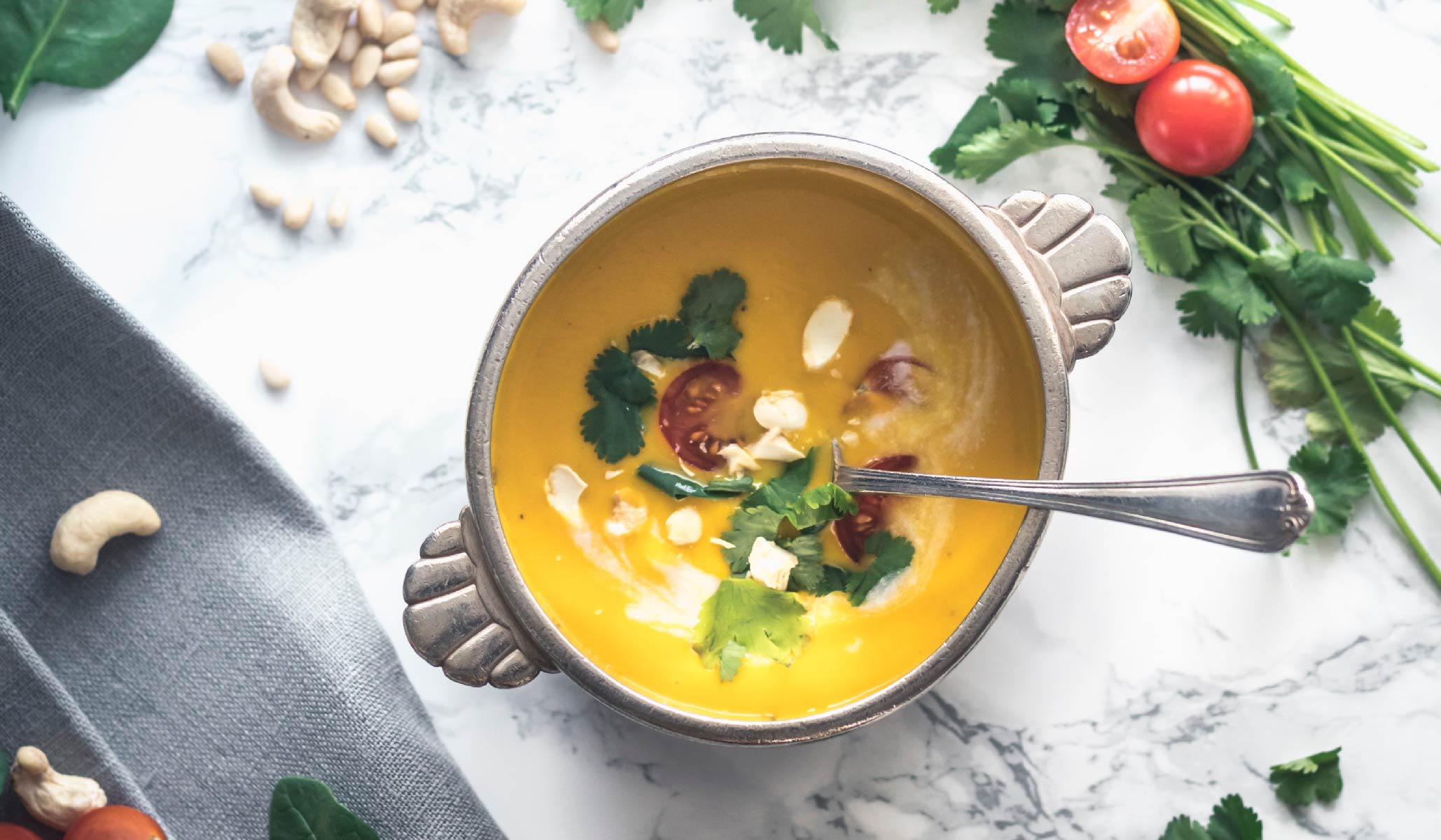 A Heartwarming Soup on a Rainy Day
Did you forget your umbrella and find yourself dashing through the chilly evening? The grey gloomy sky above and the splash of dark puddles below, as your heels meet the pavement. The sound of the patter as the droplets dart through the air and meet windows. We all know the sensation of the cold rain soaking through our jacket and socks. There is just something about the shiver of the cold rain and how it stiffens our joints on the inside. It always leaves us craving warmth.
Besides turning on the heater or the fireplace, why not also try preparing a soothing soup to nourish your body. Think about turning up the heat with your meal. You can then settle into your toasty living room with a warm vibrant bowl to end your day, and look outside at the rain continuing its sequence.  
This soup is easy to prepare, vegan friendly and gluten-free. It has a rustic feel and doesn't call for any complicated steps. The addition of coconut flour helps thicken the soup and adds a subtle coconut flavor. It only requires one pot and a minimum list of ingredients. Take out your large deep bowl, pour, garnish and enjoy.
Carrot Coconut Soup
Ingredients:
5 Peeled & Chopped Carrots (Chop into large cubes)
1 Clove Chopped Garlic
⅓ Cup Chopped Onion
2 Cups Organic Vegetable Stock
2 tbsp Healthworks Coconut Oil
3 tbsp Healthworks Coconut Flour
Salt & Pepper to Taste
Garnish: Pumpkin Seeds or Chopped Almonds
Saute garlic and onion in a pot with the coconut oil.

Add the vegetable stock, and carrots and bring to a boil. Then lower the heat, add coconut flour, place a cover and let simmer until carrots are soft. (Possibly 20 minutes or more)

Use an Immersion Blender to blend until smooth. Or remove from heat, place in a blender, and blend until smooth.

Add salt and pepper as needed.

Add garnishes, serve and Enjoy!
---