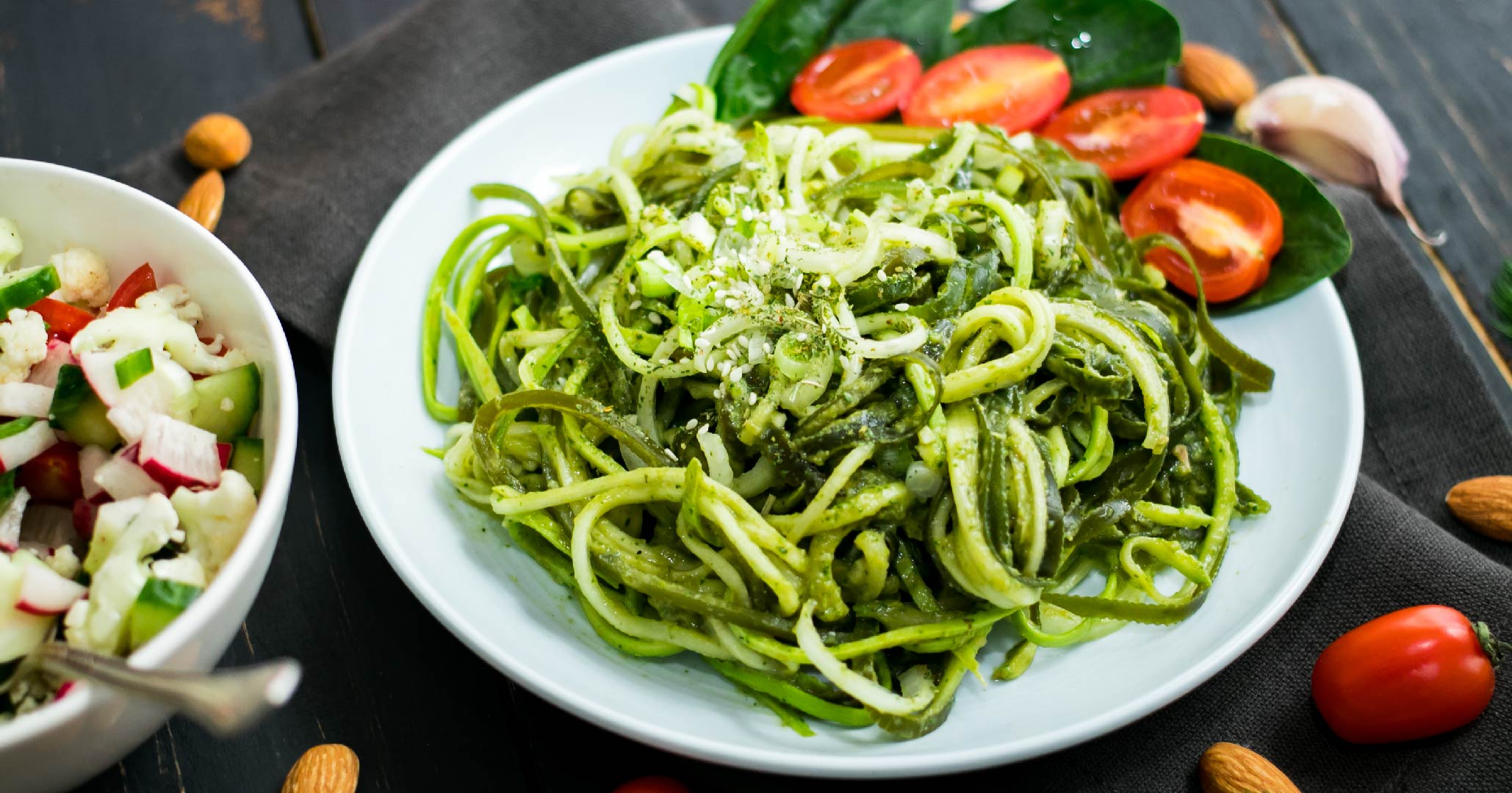 Lunch Box Idea - Zucchini Noodles with Hemp Pesto
Running out of ideas of what to eat for lunch? How about preparing yourself these refreshing Zucchini noodles? Topped with Basil Hemp Pesto, these zucchini noodles are packed with plant-based protein and healthy omega 3 fatty acids! This tasty dish only takes 15 minutes to prepare, and is full of flavour and zest.
Zucchini Noodles with Hemp Pesto
Ingredients (2 servings)
Basil Hemp Pesto:
2 cups   Fresh Basil Leaves
2 cups   Fresh Spinach
1/2 cup  Zucchini, diced
1/4 cup  Healthworks Hemp Seeds
1/2 clove Fresh Garlic, roughly chopped
1/2 tsp   Sea salt
1 large   Pinch of Cayenne Pepper
2 tbsp    Lemon Juice
1/4 cup  Olive Oil
Zucchini Noodles
4 medium Zucchinis
 Instructions:
For Zucchini Noodles
Cut the zucchini into

thin long strips

using the vegetable spiralizer or julienne peeler.

Place the zucchini noodles into a colander, set over a large bowl and sprinkle with a pinch of salt, let them sit for 15-20 minutes

Remove the zucchini noodles from the colander and place them on a layer of paper towels, using the paper towel to press out as much moisture as you can
For Basil Hemp Pesto
In a food processor, add spinach, basil leaves and ½ cup zucchini, blend until finely ground.

Add hemp seeds, garlic and process again

Add salt, cayenne pepper, lemon juice and olive oil, mix into a smooth pesto
Note: Combine the zucchini noodles and pesto right before serving, if you combine in advance, the noodles will become watery.
---